My Blog
Posts for tag: oral cancer
By Dental Horizons
April 12, 2021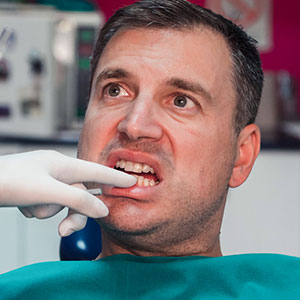 Rock guitarist Eddie Van Halen died last fall after a long battle with oral cancer, another in a long line of performers, athletes, politicians and other well-known personalities with this serious form of cancer. But household names like Van Halen are just the tip of the iceberg: Around 50,000 Americans are diagnosed with oral cancer each year.
Although not as common as other malignancies (around 2.5% of total cancers), oral cancer has one of the lowest five-year survival rates at a dismal 57%. Part of the reason for this has been the longstanding difficulty detecting it in its earlier stages: Early signs are easy to miss or mistake for a benign sore. As a result, it's often diagnosed after advancing significantly, complicating treatment efforts.
To improve survivability, the Oral Cancer Foundation designates each April as Oral Cancer Awareness Month to better educate people on this deadly disease. Here are 3 things you can do to prevent oral cancer or improve your survival odds if you encounter it.
Know your individual risk factors. Some risk factors for oral cancer are out of your control—for example, your risk may be higher if you're a male over 40, or if you're African-American. But there are also factors you can control like tobacco use, high alcohol consumption or a poor diet, all of which can elevate your cancer risk. You can lower that risk by making lifestyle changes for factors you can control and prioritizing cancer screening if you have factors that you can't.
Pay attention to oral "oddities." A small mouth sore or patch of odd-looking skin may be nothing—or it may be the beginning of oral cancer. If you do notice something unusual, especially if it seems to linger beyond a couple of weeks, have us examine it as soon as possible. If it does appear suspicious, you may need to undergo a biopsy, a cancer analysis of the suspected tissue. If it is cancerous, an early diagnosis could improve your outcome.
Visit your dentist regularly. There's more to semi-annual dental visits than teeth cleaning. Regular dental visits are an important component in your "early warning system" for oral cancer—we may notice something suspicious during your regular visit, often before you do. If you're older or have other risk factors for oral cancer, we can expand your regular exam to include a comprehensive cancer screening.
Oral cancer is a serious matter. But taking steps to prevent it and staying alert to its warning signs can help you overcome it.
If you would like more information about oral cancer, please contact us or schedule a consultation. To learn more, read the Dear Doctor magazine article "Oral Cancer."
By Dental Horizons
April 23, 2017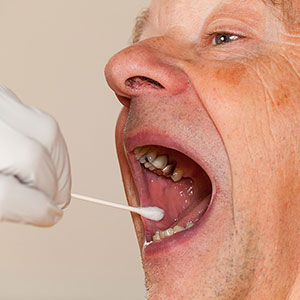 A half million people are diagnosed every year with oral cancer. While other cancers are more prevalent, oral cancer is among the most dangerous with only a fifty percent five-year survival rate.
A major reason for this low rate is because this fast growing cancer is difficult to detect early — diagnosis comes far too often after the disease has already well advanced. In an effort to detect cancer earlier many dentists visually screen for oral abnormalities during checkups, especially patients over fifty, tobacco or heavy alcohol users, patients with a family history of cancer or a medical history of exposure to the sexually transmitted human papilloma virus, HPV-16.
If they detect an abnormality, the dentist often refers the patient to an oral surgeon or other specialist for a possible biopsy. In this procedure the surgeon removes a sample of the abnormal tissue, which is then examined microscopically for cancer cells. A biopsy remains the most effective way to diagnose oral cancer.
Because of the disease's aggressive nature, many dentists lean to the side of caution when referring patients for biopsy. As a result 90% of oral biopsies reveal no cancer. Reducing the number of biopsy referrals is highly desirable, especially for the patient undergoing the procedure. Tissue samples tend to be large to ensure complete detection of any cancer cells. Depending on the size and location of the sample, there may be a risk for loss of function or disfigurement.
A new screening tool using a sample of a patient's saliva could help reduce the number of biopsy referrals. Besides DNA, saliva also contains dormant genes called biomarkers that activate in response to the presence of a specific disease. This particular saliva test identifies those biomarkers for oral cancer if they're present.
A sample with a low score of biomarkers indicates no cancer present (with a statistical confidence of 99%). A medium or high score indicates cancer may be present, but only a biopsy can determine for sure. Using this test, dentists might be able to reduce the number of biopsy referrals and instead be able to employ watchful waiting in certain cases. Because of its simplicity and non-invasiveness, saliva screening could help identify oral cancer earlier.
If you would like more information on early detection and treatment for oral cancer, please contact us or schedule an appointment for a consultation.